by admin on 20/01/15 at 3:16 pm
Note: A must read today due to the challenging recession!
THIS PUBLICATION DOWNLOAD IS A RECOMMENDED SOLUTION TO STOP THE THREATS & THE NEVER ENDING DRUMS OF WAR IF ELECTION RESULTS DO NOT GO ONE'S WAY. ITS ALSO A PANACEA TO CURB POLITICAL CRISIS & GIVE EVERY NIGERIAN CITIZEN A SENSE OF BELONGING.
 ELECTION DAY HAS COME AND GONE, Download and read today, as we pray for a peaceful NIGERIA during President Muhammadu Buhari's reign.This is the first party to opposition party transition after one party had been ruling for 16 years. (From PDP to APC)

   Now Free Used to be $2.99 only
* If you want to donate any amount to the author, Click the Buy Now button here or on the right side widget. You will be redirected to an international checkout secure server. If you want to donate in Naira?, see below or leave a comment on this page and we will tell you how.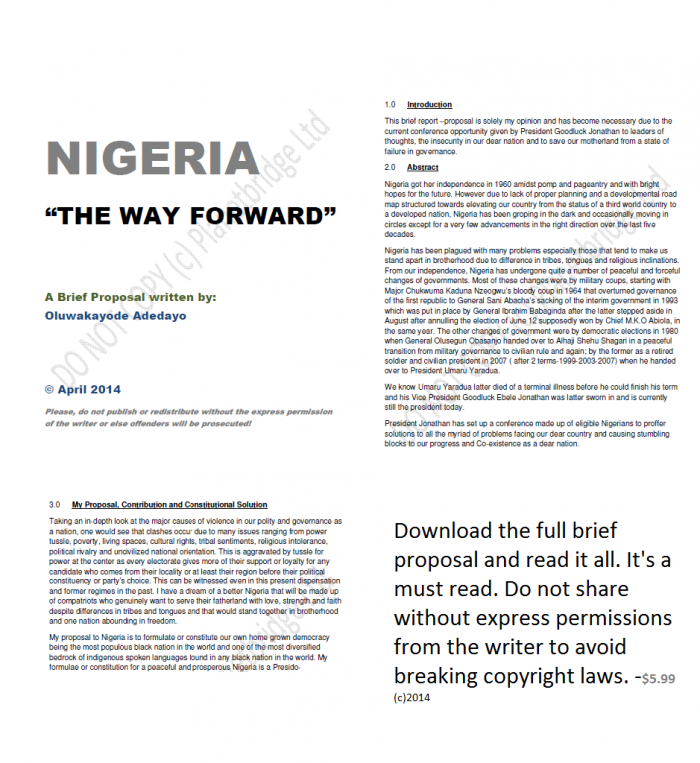 DO YOU WANT TO DONATE TO ENCOURAGE THE AUTHOR'S WRITING SKILLS?   See Donation account below. Please call or Skype so the author can reply with a personal "Thank You"

Account Number (N): 0000858570
Account Number ($): 0000858587
Account Number (€): 0000858604
Account Number (£): 0000858594
Bank: GT Bank Plc

*DONATE TOWARDS THE NEXT E-BOOK (

Restructuring Nigeria

)
 Inspired by Gen. Alani Akinrinade's Press chat.
"Nigeria must Restructure or Break Up
http://sunnewsonline.com/nigeria-must-restructure-or-break-up/

Skype: multicom7
email: support@planetbridgelimited.com
Save
Save
Save
Save
Save
Save
Save
Save
12,051 total views, 21 views today